The time to prepare is now.
Hurricanes and Tropical Storms:
Once a storm system crosses the 140-degree west longitude mark, it enters the Central Pacific area and would be in "Hawaiian" waters. Carefully monitor any hurricanes or tropical storms that develop or enter into Hawaiian waters until they safely pass our islands or dissipate.
Residents and visitors can track weather events by visiting the Central Pacific Hurricane Center website.
Know Where to Get Official Information
Emergency Alert System (EAS):
Important official emergency information such as evacuation notification and shelter locations will be broadcast over all TV and radio stations statewide using the EAS.
Stay tuned to local media and their websites/applications regarding weather updates.
Should your power go out during an emergency such as a hurricane, it then becomes vitally important that each household have a battery operated radio and spare batteries on hand to receive emergency information.
Newer hand-crank generators or solar powered radios are also a good option.
EAS broadcasts for major coastal evacuations will be aired in conjunction with a three-minute sounding of all Outdoor Siren Warning Systems on O'ahu.
Emergency and Community Information via Social Media:
Department of Emergency Management on Twitter @Oahu_DEM and on Facebook.com/OahuDEM
Honolulu Mayor Rick Blangiari on Twitter @MayorRickHNL; Facebook.com/MayorRickBlangiardi; and Instagram @mayorrickhnl.
Emergency Email and Text Message Alerts:
O'ahu residents can sign-up to receive emergency email, cellphone text messages and push alerts from the City and County of Honolulu by downloading the free HNL.info app from the App Store or Google Play. Standard text messaging rates may apply depending on your wireless carrier and plan.
The Department of Emergency Management is in communication with the O'ahu Visitors Bureau and the Hawai'i Tourism Authority to ensure visitors are prepared. It's incumbent on our visitors to pay attention to warnings issued by local media and government sources, as well as keeping up to date with any announcements made by the O'ahu Visitors Bureau and the Hawai'i Tourism Authority.
Know Your Evacuation Route
Check with local officials about updated evacuation shelters for this year. You should note that your regular shelter may not be open this year due to COVID-19 or other safety factors.
If you evacuate to a community shelter (see below: Hurricane Refuge Areas; only open or activated by officials during times of emergency), follow the latest guidelines from the Centers for Disease Control and Prevention (CDC).
If you are able, bring items to the shelter such as hand sanitizer, cleaning materials, and multiple face coverings per person. While at the shelter, be sure to wash your hands regularly. If possible, be sure to maintain a polite physical distance between you and people who aren't members of your household.

Gather Supplies
Have enough food, water, and other supplies for every member of your family to last at least 14 days (see graphic below).
After a hurricane or other severe storm event, you may not have access to these supplies for days or even weeks. Preparing now ensures that you are well-equipped to stay safe if you need to quickly grab your go kit and evacuate to a community shelter.
Visit the City and County of Honolulu's official website for more disaster preparedness information and to access downloadable information sheets.
For those who can afford it, making essential purchases in advance will allow for longer time periods between shopping trips and help to protect those who are unable to buy essentials in advance of the pandemic and must shop more frequently.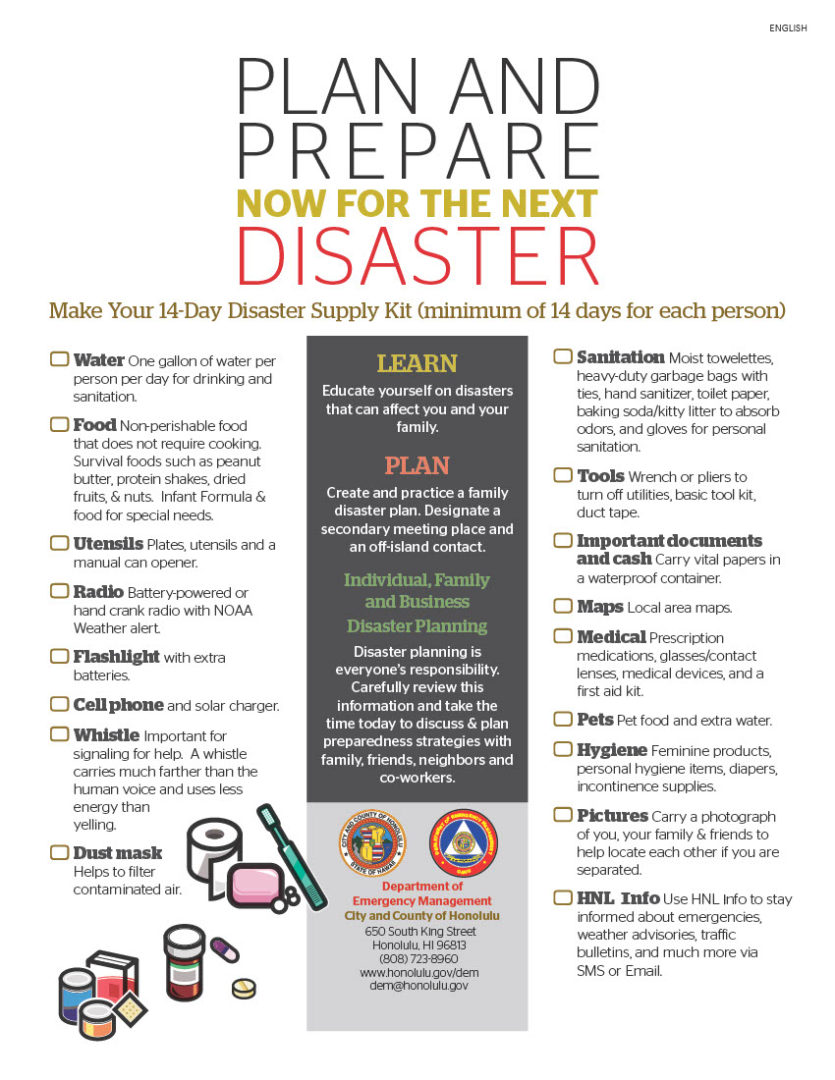 Make an Emergency Plan
Make sure everyone in your household knows and understands your hurricane or severe event plan.
Have a plan for the office, kids' daycare, and anywhere you frequent.
Prepare your pets by checking or purchasing a carrier and other preparedness items. A pet carrier is necessary for your pet's safety if you plan to evacuate to a pet-friendly shelter.
More helpful Hurricane Preparedness Tips
Get to know your neighbors and community so you can help each other.
Walk your property and check for potential flood threats. Clear your gutters and other drainage systems.  Remove and secure loose items.  Keep your vehicle's gas tank filled.
Preparing your home:
• Protect your property. Declutter drains and gutters. Consider hurricane shutters. Review insurance policies.
• Be prepared to bring loose, lightweight objects inside that could become projectiles in high winds (e.g., patio furniture, garbage cans); anchor objects that would be unsafe to bring inside (e.g., propane tanks); and trim or remove trees close enough to fall on the building.
• Be prepared to cover all of your home's windows. Permanent storm shutters offer the best protection for windows. A second option is to board up windows with 5/8" exterior grade or marine plywood, cut to fit and ready to install.
Check insurance policies:
Remember that homeowners insurance alone will not cover hurricane damage.  You will need separate policies for hurricane as well as flood insurance to protect against damage from coastal flooding. You can buy flood insurance separately through the National Flood Insurance Program.  Make sure to check and know what your existing insurance policies will or will not cover.
HELPING YOUR COMMUNITY STAY INFORMED:
Non-English Speakers and Disabled:
If you have a family member who does not speak English or a family member who, due to a disability cannot receive emergency information readily, we highly recommend forming a core group of family or friends who can assist with translations or providing important emergency information as well as assisting with disaster preparedness actions and if needed, evacuation
If English is a second-language for family and friends, refer and share the link below (click image below) for Honolulu's Department of Emergency Management's Multilingual Disaster Preparedness Resources page: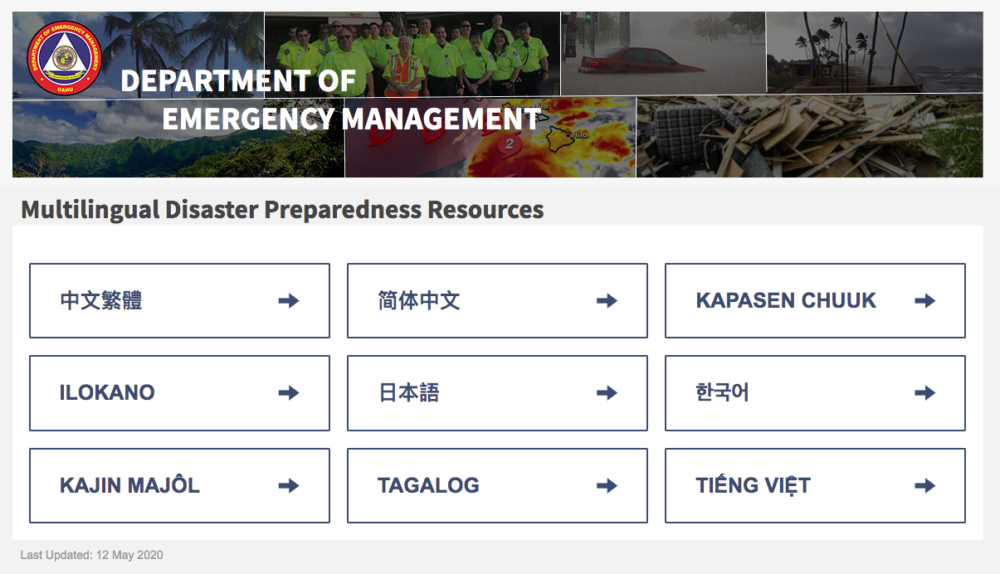 ---
Download the FEMA mobile app
Download the FEMA mobile app for disaster resources, weather alerts, and safety tips. Available in English and Spanish, the app provides a customizable checklist of emergency supplies, maps of open shelters and recovery centers, disaster survival tips, and weather alerts from the National Weather Service.
Visit Ready.gov for more tips. Disasters won't wait. Neither should you.
*information from and edited for 2023 Hawaii conditions from: fema.gov; honolulu.gov