ALOHA STADIUM was established in 1975. It has housed a great many events in music, sports, and our own schools' having their graduation ceremonies on the field! While CONSTRUCTION ON (THE) NEW ALOHA STADIUM (KITV4) is set for 2023, I thought to share the few ticket stubs I have found from my own adventures: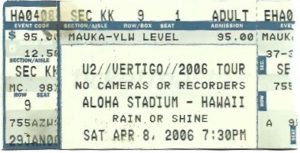 (above: 2006. My gosh, I was pretty high up in the sky for this show! U2's Vertigo Tour stop in Hawaii was a far, far cry from their first visit to Honolulu. *typing furiously…* Oh, hey – they played THREE SEPARATE DATES IN HONOLULU, two of them AT the Aloha Stadium!)
(above: 2017. Hawaii High School Sports Athletics Association's Football series at Aloha Stadium. I attended Castle High School though graduated from Lahainaluna High School. When the Luna teams have playoffs, a few of my classmates let me know and we meet up to cheer from the stands!)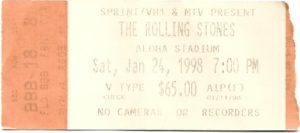 (above: 1998. The Rolling Stones' Steel Wheels Tour at Aloha Stadium. I had great seats on the field though REALLY…when you are in front of the Rolling Stones, you are standing, yelling, dancing the night away…)
The World's FIRST "PEPPA PIG THEME PARK" will be in Florida and I LOVE how they are actively seeing the park's rides with attention to young ones for wheelchair accessibility and other features <3!
#ICYMI – We announced at #IAAPAEXPO our partnership with @IBCCES to become a Certified Autism Center, with other accessibility options, when we open on February 24, 2022 pic.twitter.com/5oa2vrNpBU

— Peppa Pig Theme Park Florida (@PeppaPigFlorida) November 17, 2021
Serious, I am excited about GHOSTBUSTERS: AFTERLIFE this weekend! ICYMI, Bill Murray, Ernie Hudson, and Dan Aykroyd talk about their experience in the updated feature with late night talker Jimmy Fallon: