If this is an emergency, CALL 9-1-1.
Wear a face mask. Review: CDC "Types of Masks and Respirators" (9/23/2021)
Physically social distance six feet apart from those who are not in your home or work bubble.
Wash your hands with soap and water for 20 seconds. Use hand sanitizer when soap and water are not available.
Updated (January 14, 2022)  COVIDtests.gov : FREE At-Home COVID-19 Tests – "Every home in the U.S. can soon order 4 free at-⁠home COVID-⁠19 tests. The tests will be completely free—there are no shipping costs and you don't need to enter a credit card number. Ordering begins January 19."
Updated (January 6, 2022) COVID-19 Quarantine and Isolation Guidelines for Hawaii [Stop The Spread of COVID-19 virtual poster]: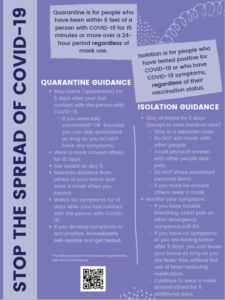 For HAWAII specific COVID-19 news coverage, scroll down to bottom of page.
Outlined links below will take you to the official City & County of Honolulu, State of Hawaii, and/or the Hawaii Tourism Authority sites.
*Official social accounts for City and County of Honolulu, State of Hawaii Department of Health, and CCHNL's Department of Emergency Management will be included here when timely information is shared ahead of their official website(s).
Please note that City and County of Honolulu (Island of Oahu) may have different mandates and guidelines from neighboring counties (Kauai County, which is Kauai and Niihau; Maui County, including Molokai, Lanai, and Maui; and Hawaii County, Hawaii Island/Big Island).
Aloha Clear : AlohaClear.com "Your Passport to COVID-19 Testing" includes Free US Community COVID-19 RT PCR Testing
City & County of Honolulu : OneOahu.org "COVID-19 Testing Information" includes Find a testing site near you, City Mobile testing lab
City & County of Honolulu : OneOahu.org "Oahu (Face) Mask Requirements / (Face) Mask Wearing Rules"
City & County of Honolulu : OneOahu.org "Safe Access Oahu: Information for Businesses"
City & County of Honolulu : OneOahu.org "Safe Access Oahu: Information for Patrons/Customers"
City & County of Honolulu : OneOahu.org "Travel Information (To and From Oahu)"
City & County of Honolulu : OneOahu.org "Vaccine Provider MAP (subject to change)"
Hawaii Tourism Authority : hawaiitourismauthority.org "COVID-19 Updates"
Hawaii Tourism Authority : hawaiitourismauthority.org "Traveling to Hawaii"
Hawaii Tourism Authority : hawaiitourismauthority.org "Individuals Violating Self-Quarantine"
Hawaii Tourism Authority : hawaiitourismauthority.org "State and County Orders"
State of Hawaii – Department of Health : HawaiiCovid19.com (home page)
State of Hawaii – Department of Health : HawaiiCovid19.com "COVID-19 News"
State of Hawaii – Department of Health : HawaiiCovid19.com "Safe Travels Hawaii Program"
State of Hawaii – Department of Health : HawaiiCovid19.com "Testing, Isolation & Quarantine"
State of Hawaii – Department of Health : HawaiiCovid19.com "COVID-19 Vaccine Information"
State of Hawaii – Hawaii Emergency Management Agency – Hawaii COVID-19 Data (dashboard)
State of Hawaii – Hawaii Emergency Management Agency – Additional Resources by County
(MAP) For POP-UP COVID-19 Testing and COVID-19 Vaccine Providers on OAHU [Please call ahead to confirm each facility's testing and appointment protocols, paperwork or ID requirements, availability, and pricing.]
Oahu area hospitals (In Case of Emergency, call 9-1-1.):
Adventist Health Castle : AdventistHealthCastle.org "Coronavirus – Protecting Our Communities"
Hawaii Pacific Health : HawaiiPacificHealth.org "Coronavirus Updates" includes COVID-19 Vaccine locations on Oahu, COVID-19 Testing
Kaiser Permanente Hawaii : KP.org "COVID-19: Care, Vaccines, Testing for Members…"
The Queen's Health Systems : Queens.org "Prepare For Appointment" , includes Vaccination Clinics – Oahu
Wahiawa General Hospital : WahiawaGeneral.org "COVID-19 (CORONAVIRUS" General Information" – "*Wahiawa General Hospital is NOT a scheduled COVID-19 testing location and will only test for COVID-19 in an emergency situation. If you are feeling ill or have any reason to believe you may have come in contact with someone diagnosed with COVID-19, please contact YOUR PERSONAL PHYSICIAN for more information or to request being tested for COVID-19"
Waianae Comprehensive Health : wcchc.com "COVID Vaccine and Booster Shots Available at Our Comprehensive Professional Pharmacy (ages 12+)" 
Local news coverage (Honolulu and Hawaii-statewide):
HONOLULU CIVIL BEAT : Here's Where You Can Find the Latest Data on COVID-19 in Hawaii
HONOLULU STAR-ADVERTISER : Hawaii Coronavirus Coverage  | Hawaii Coronavirus Outbreak News
HAWAII NEWS NOW : COVID-19 Top Stories
KHON2 : Coronavirus, COVID-19 in Hawaii
KITV4 ISLAND NEWS : COVID-19 (general information)