*Updating as events are confirmed; subject to change. Keep sharing: kathywithak@1059thewavefm.com
**2021 Oahu Neighborhood Parades have been Cancelled for November and December.
Scroll down to the bottom of this page for GENERAL STREET INFORMATION on Residential Christmas Lights and IKYK to be respectful while driving through neighborhoods as you enjoy the love and hard work families and friends put into their displays!
CHRISTMAS TREES FOR SALE (edited; please visit website or call ahead!)
HELEMANO FARMS  in Wahiawa –They will have expanded hours after Thanksgiving Day weekend
CARROLL'S ISLAND CHRISTMAS TREES in East Oahu (Church of the Holy Nativity) 
KOOLAU FARMERS in Kailua, Kaneohe, and on Beretania Street in Honolulu
TAJIRI CHRISTMAS TREES IN HAWAII – Ala Moana Center's ground level near the Trolley Depot
HABILITAT TREES HAWAII  – You can order (now) for pick up December 4, 2021 OR visit locations (at website) beginning November 27, 2021 (scroll down page for options).
USPS' "GREETINGS FROM THE NORTH POLE"
 – #GreetingsFromTheNorthPole! If you want to have your letters or packages postmarked from the North Pole, visit the link above and follow the instructions by/before December 10, 2021!
"USPS Operation Santa® pairs letters from kids and families with generous people who fulfill their holiday wishes. You can be a part of it — the more letters sent to Santa, the more magic we can deliver."
SHOPPING CENTERS, MALLS, VENUES, COMPLEX EVENTS + HOURS (please visit website or call ahead!)
ALA MOANA CENTER – "Merry Mistletoe Celebration" includes their Holiday Gift with Purchase (while supplies last).
Also, Contactless Photos with Santa (now through December 24, 2021);
Pet Photo Night (November 29-December 20, 2021 from 4pm to 8pm; cats and dogs only);
Santa Cares – in partnership with Autism Speaks (Sunday, December 5, 2021 and Sunday, December 12, 2021 from 9:30am to 10am).
Personal cameras not allowed for various photo ops and please visit site for more details!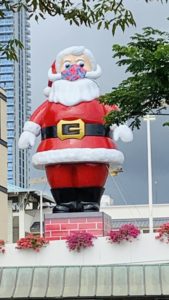 Remember to snap a pic of their Big Santa, since 1959! @alamoanacenter #BFHI and they've also got their Holiday Selfie Wall on Mall Level 2, Center Court
(SHOW ALOHA LAND) ALOHA  STADIUM – A return engagement – brought to you by MIRA Image Construction – with more lights and displays for you to safely drive thru! They will have their Mega Tree Food Court, in case you feel snacky OR make it a night of it! For tickets: "Show Aloha Land's 'A Winter Wonderland'". (Now – January 1, 2022).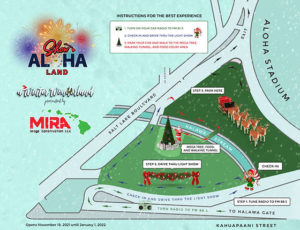 Kuana Torres Kahele Presents "TAHITIAN CHRISTMAS", Monday, December 13, 2021! From Blue Note Hawaii's site: "…a mix of exciting Tahitian hits and Christmas favorites to get you in the Holiday mood."
Jake Shimabukuro, Thunderstorm Artis, Taku Hirano "CHRISTMAS IN HAWAII", Sunday, December 19, (Monday) 20, and (Tuesday) 21, 2021! Two shows nightly…
Mike Lewis and Friends Present "A CHARLIE BROWN CHRISTMAS", Wednesday, December 22, 2021! From Blue Note Hawaii's site: "A familiar face at the Blue Note Hawaii, Native New-Yorker and trumpeter Mike Lewis presents A Charlie Brown Christmas, featuring some of Hawaii's best jazz musicians. The show will highlight selections from the soundtrack to A Charlie Brown Christmas, as written by legendary composer and pianist Vince Guaraldi"
DIAMOND HEAD THEATRE – Staging "ELF – THE MUSICAL", Friday, December 3, 2021 through Wednesday, December 23, 2021. Buddy Elf journeys from the North Pole – Santa Claus gives his okay! – to New York City, in search of his Dad #awww…Tickets on sale now!
FARMERS' MARKETS (Hawaii Farm Bureau) – Please review their site for current (holiday) hours:
Honolulu/Blaisdell Concert Hall lawn (Wednesday afternoons)
KCC/Kapiolani Community College (Saturday mornings),
Mililani [High School] (Sunday mornings)
HAWAII FOOD & WINE FESTIVAL 2021 – Rescheduled for December (for Oahu):
Kamehameha Schools Presents Backyard BBQ and Mele on the Lawn at the Bishop Museum (December 5, 2021)
HAWAII KAI TOWNE CENTER – For specific offers from their shops, VISIT THEIR UPDATES page!
The Hawaii Symphony Orchestra performs "HANDEL'S MESSIAH", presented by Halekulani Masterworks! Lead by Conductor Jory Vinikour. Saturday, December 11, 2021.
The Makaha Sons "MAKAHA KALIKIMAKA", Friday, December 17 and Saturday, December 18, 2021! Special guests (announced) include Iolani & Natalie Ai Kamau'u, Maria Raquel Higa (aka Rocky Brown), Robi Kahakalau. Opening performer: Ei Nei…
HONOLULU HALE and HONOLULU CIVIC GROUNDS – The "HONOLULU CITY LIGHTS" tree lighting ceremony will be on December 4, 2021 at 6:30pm.
NO Public attendees during tree lighting (due to current COVID-19 mandate) – Broadcast on Olelo Channel 53 [all times Hawaii]: 
Saturday, December 4, 2021 at 6:30 p.m. (original live ceremony event)
Sunday, December 19, 2021 at 6 p.m.
Wednesday, December 22, 2021 at 10 p.m.
Friday, December 24, 2021 at 5 p.m.
Saturday, December 25, 2021 at 11 a.m.
There will be outdoor displays, and indoor tree exhibits *(indoor exhibit: attendees with proof of vaccination or a negative COVID-19 test) in Honolulu Hale.
Note: there will be NO keiki rides; NO Photos with Santa; NO wreath contest; NO opening night parade; NO holiday concerts. (City & County of Honolulu)
KA MAKANA ALI'I – "Santa Photos", available from now through December 24, 2021, "visit Santa and his sleigh in the Macy's wing"…
KAHALA MALL – For "Secret Santa" gifting for families in our community, the "Angel Tree" is back (now through December 20, 2021).
Their "Photos with Santa" have reservation times and information…
"The Very Merry Event!" ("an opportunity for local non-profit, community groups, schools, and sports teams to raise money by selling $5 tickets to Kahala Mall's Very Merry Event. The VME is a weekend full of exclusive in-store specials and giveaways for ticket holders only") has savings for all…
KAPOLEI CITY LIGHTS – (Saturday, December 11, 2021 – Sunday, January 9, 2022) "…Kapolei City Lights is held at Kapolei Hale, at 1000 Ulu'ōhia Street. Under regular circumstances, a parade and lighting ceremony are held to launch this free community event. However, due to the COVID-19 pandemic both the lighting ceremony and parade were cancelled. However, you can continue to enjoy the exterior lights, tree, and sculptures adorning the building this holiday season!"
KAPOLEI COMMONS – Visit the STORE DIRECTORY for dining and shopping ideas! Check back for their "Events at Kapolei Commons" for upcoming gatherings…
MARKET CITY SHOPPING CENTER – For their individual store hours and events for each merchant, please VISIT THEIR EXPLORE MARKET CITY page…
MCCULLY SHOPPING CENTER – For more information on store hours and current events for each store, please VISIT THEIR MERCHANTS page…
MILILANI SHOPPING CENTER – "Give Back This Holiday Season", 9 a.m to 12 p.m., Saturday, December 4, 2021! Live entertainment from Kimo Opiana and Photos With Santa! "Toys for Tots" gift drive continues till December 4, 2021 (please see site for participating donation drop off locations within center).
"Kokua For Keiki 2021" – Beginning December 1, 2021 (through January 31, 2022), your shopping receipts could help raise monies for participating area schools. [Please see rules and guidelines at site; you will be able to upload receipts online]. 
The "Toys for Tots" new, unwrapped toy drop off location for the center this season is The Pizza Press!
PEARLRIDGE CENTER – "Pearlridge Express", "…Hawaii's only scale-model, fully-functioning train" is for keiki who are 48″ or under (now through January 10, 2022).
Their "Photos with Santa" have reservation times and information…
PEOPLE'S OPEN MARKET (City & County of Honolulu) – There is an Open Market on every day of the week (excluding City holidays)! Please review day, time, and location (subject to change):
Monday – Honolulu city – Manoa, Makiki, Aina Moana (Magic Island), City Hall on King Street
Tuesday – Leeward and Central Oahu – Waiau, Mililani, Waihiawa, Waipahu
Wednesday – Honolulu city – Palolo, Old Stadium Park, Kapiolani Park
Thursday – Windward Oahu – Waimanalo, Kailua, Kaneohe
Friday – Leeward Oahu – Halawa, Ewa Beach, Pokai Bay
Saturday – Kalihi through Hawaii Kai – Kalihi, Salt Lake, Hawaii Kai
Sunday – Leeward Oahu – Kapolei, Kunia, Waikele
ROYAL HAWAIIAN CENTER – enjoy their sales and other events, take photos at their lighted Christmas tree!
TOWN CENTER OF MILILANI – "PHOTOS WITH SANTA" begin Saturday, November 27, 2021 (from 10 a.m. to 1 p.m.) and continues on SATURDAYS in December till December 18, 2021! Reservations are required!
WAIANAE MALL – See their Facebook page for upcoming holiday events and shopping!
WAIKIKI SHELL – Josh Tatofi "COMING TOGETHER FOR THE HOLIDAYS" , with Special Guest: Justin Kawika Young! Saturday, December 18, 2021! Tickets on sale now!
WAIKIKI TROLLEY – "Holiday Lights Tour" (begins December 4, 2021), a fun option to enjoy hands-free (read: be a rider and let someone else to the driving!) Christmas light viewing through Honolulu, [From Waikiki Trolley site:]"This magical ticket will allow you take photos with the real Santa Claus and some of his busy elves."
WARD VILLAGE – Their "HOLIDAY HAPPENINGS" include Yoga in the Park, Seasonal Photo Opportunities, and Farmers Market weekly! Look for their Holiday decor around their shoppes now and enjoy till January 2, 2022…
WINDWARD CITY SHOPPING CENTER – Find more of your dining and shopping options at their MERCHANT DIRECTORY here…
WINDWARD MALL – "All Out Holiday" offers a variety of entertainment, sales, and events throughout the Mall!
"Photos With Santa" available Friday(s) through Sunday(s) on now through December 23, 2021 – with a break for Santa Claus to feed their reindeer!
"St. Nick's Pet Pics", "Dogs, cats and small animals are invited to pose for a photo with Santa through a plexiglass.  All animals are required to be on a leash or in a cage*. "
*Is there a hotel or resort lobby that is a MUST SEE? Let us know: kathywithak@1059thewavefm.com
Oahu's NEIGHBORHOOD CHRISTMAS LIGHT DISPLAYS (The following streets have had popular holiday displays that continued in 2019 and 2020. This is an unofficial compilation and if you'd like to suggest your street to this listing! Thank you for continuing to share aloha when enjoying the Christmas and Holiday decorations throughout our islands…)
Akumu Street – Kailua
Kuupua Street – Kailua
Namoku Street – Kaneohe
Nakuluai Street – Kaneohe
Hinemoe Loop – Kaneohe
Kapolei Parkway – Kapolei
Puhikani Street – Kapolei
Mahinahou Street – Mililani
Hoohualii Place – Pearl City
Kiokio Place – Waipahu
Kupuna Loop – Waipahu
Palai Street – Waipahu